TL;DR: We created a solar system using WebGL (3D) for all 50,000 Attendees at Adobe's Annual Conference to add their own customized planet to view.

I'd have to say 2017 was the year of the Arbitrary & Hall and All team up. Jamie Kosoy of Arbitrary has become a very good friend of mine and always has some of the most interesting projects to team up on. He let me know that the fantastic crew over at Oddfellows had reached out to him to do an installation piece for Adobe at their annual conference called Adobe Max in Las Vegas.
Adobe planned on airing their AdobeLive streaming show at the conference, which streams sessions featuring top creatives sharing their process and interacting with viewers all while on the massive showroom floor at the Venetian Hotel and Casino.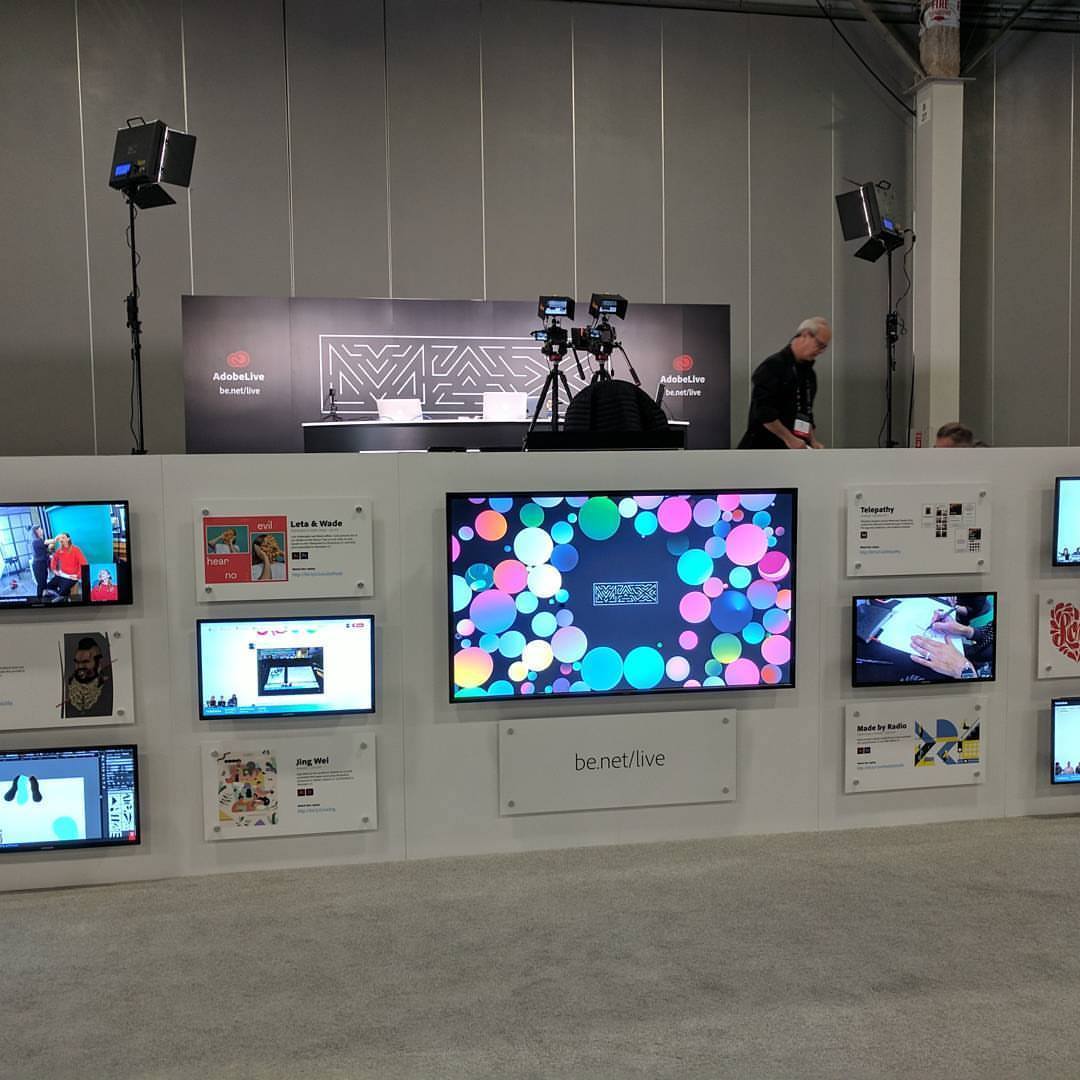 The television showing the animation, right below where they film the streaming during the conference.
Oddfellows had done all of the branding work that AdobeLive was using for its opening sequence as well as for featuring some of the guests they were going to have on their show. Oddfellows and the team at Adobe decided they wanted to bring this design to life even more in an experience that could bring all of the attendees at the conference into their work and that's where we came in.
Oddfellows had the idea to create a solar system, with different planets that represented all of Adobe's offerings. As a creative there are many options from the Adobe line, such as illustrator, experience designer (XD), photoshop, and many more. The idea was to let a user enter their name, email address, and what product they used the most in a form on our experience.
In the experience, if she used photoshop, she would get a moon that would compliment photoshop's blue planet and system aesthetic and orbit around that planet. We had the experience show two different scenes that included the user's planets, one in the standard galaxy set-up that we all know and love, and a second scene that would have all of the users flying around the adobe max logo, as seen below:
There were a bunch of tough challenges for this experience, such as masking out the systems so we could have systems in a larger system (system-ception?) and live loading new entrants while the installation was still running. Using Jamie's outlook on prototyping, I was able to get things moving in a much faster fashion, but thats going to be a much more in depth blog post later.
You can view the final product in person at this link:

Click here to view the Adobe Max Live installation or you can view it as a video here:
All in all, the final product came out looking wonderful. We were able to attend the event to watch over the installation in case anything went wrong (as they sometimes do) but everything went off without a hitch and the clients couldn't have been happier.